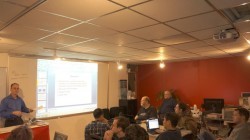 Stewart Newfeld, president of Zebra Systems loves teaching Joomla one-on-one or in a classroom environment. To talk about what you or your employees want to learn just email or give him a call.
If you require a classroom space to accomodate a group we can arrange for that too.
If your job title or employment just changed and you find yourself in need of learning how to perform just a few specific tasks to maintain a website, he can train you via remote screen-sharing sessions, and if necessary supplement that by creating custom training videos for you.